GROOVESHINE PRESS KIT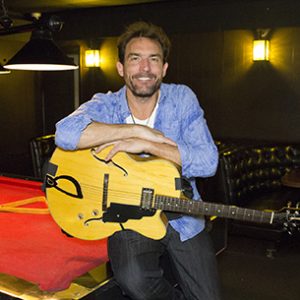 Formed by producer Mike McHugh, GrooveShine combines acoustic-based songwriting with funk, reggae, and hip hop rhythms. As a prolific songwriter, beat-maker and DJ, McHugh merged favorite genres to create a unique sound and style of musical production. GrooveShine music melds the energy of acoustic rock with hip hop production techniques, multi-influenced beats, and a plethora of dynamic featured vocalists.
Originally formed in Santa Barbara, GrooveShine embodies the Southern California beach vibe with upbeat rhythms, island grooves and acoustic guitar strums.
GrooveShine has released two official albums and is getting ready to release "Story Time", which focusses on McHugh's lyric-based material. Now based in Los Angeles, most of the album was recorded at GrooveShine Studio in Hermosa Beach. Drums by Zeb Dekofsky (Tribal Seeds, Barrington Levy, Sean Paul) were recorded at Studio 637 in Hermosa.
GrooveShine plays live in the South Bay area and is beginning production on new material focussing on more songs with featured vocalists.
INFLUENCES
Sublime, Dr Dre, Led Zepplin, J Dilla, Bob Marley, Bob Dylan, Tribe Called Quest, James Brown, Ernest Ranglin
TOP TRACKS
ARTICLES & QUOTES
"GrooveShine's 'New Moon' provides a snapshot of favorite tracks from live performances."
New Millennium Music – Article – June 16, 2016
"GrooveShine played a high energy 90 minute set Friday night of the festival and played through sundown. The beat heavy grooves were led by producer Mike Mchugh with an exceptionally funky rhythm section of veteran performers"
New Millennium Music – Article – June 26, 2015
"'Medusa' has a vibe somewhere between Sublime and String Cheese Incident. The lyrics seem to be influenced equally by Dylan and Marley, mythic yet grounded firmly in human feeling."
Eric Jarvis, Music Page – Article – June 4, 2015
"GrooveShine music melds the energy of acoustic rock with hip hop production techniques and dance-friendly beats."
Blaqueline Entertainment Magazine – June July 2015 – Page 37
"GrooveShine releases Miximus Maximus, a 16-track compilation blending reggae, funk, and hip-hop elements into one of the most innovative and danceable hometown releases of the year thus far."
Cassandra Miasnikov, Santa Barbara Independent – Album Review – March 12, 2015
• "Chasin a freak" – 92.9 KJEE Santa Barbara – Localize it Pick of the Week – August 4, 2014
• "GrooveShine effortlessly combines funk, hip-hip and plenty of reggae, resulting in that elusive groove and a packed dance floor, just like a jam band show, a reggae show, a funk show or a hip hop show. Truly democracy with a beat, GrooveShine features Mchugh and a revolving cat of players and a number of different vocalists all operating within that ubiquitous groove."
Bill Locey, Ventura County Star – Article – July 17, 2014
• "GrooveShine is a playful, yet soulful band that is reminiscent of bands such as Slightly Stoopid, Phish, and Ozomatli. GrooveShine without a doubt has the musical creativity that can push forward a new movement of feel good vibes that is somewhat lacking in today's musical tastes."
Jesse Till, Music Industry News – Album Review – July 1, 2014
• "An upbeat, celebratory feel-good album with hooks galore and rhythm to spare, "GrooveShine" is perfectly named and a sonic delight from start to finish."
S. McCauley, Mondo Press – Album Review – June 16, 2014
"We have never had so many people recommend a band to us in advance! Every week, someone comes in raving about them. Huge buzz!! We are so excited."
Lisbet Frey, Green Art People – July 2014
"Attention club owners, promoters, and bar managers: I just had GrooveShine and they were awesome. They have really made strides in their music, and they are a lot of fun. If you haven't booked them, I highly recommend you do, and if you have, then I recommend them to be a monthly gig in your club. They are really good in promoting their events, and they have a great following."
Jerry Hudson, Santa Barbara Local Musicians